. Complete set of 50kN Triaxial testing machine for soil specimen up to 100mm diameter.
3. Complete set of 100 kN Uniaxial testing machine for soil specimen up to 100 mm diameter.
4. Complete set of one-dimensional Consolidation test apparatus with calibrated dial gauges and weights.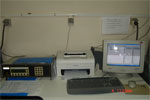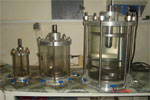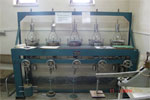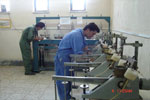 5. Complete set of Direct/ Residual Shear apparatus that will accept specimens of 60mm and 100mm square.
A thyristor controlled drive unit and gear box that provides infinite speeds from .0025 to 1mm /minute, with a neutral gear position.
6. Complete set of Particle Size Distribution test by Sieving and Sedimentation methods and Plasticity index equipments
7. Permeability test equipment for constant and falling head methods.
8. Modified and Standard Compaction Tests including molds and Rammers of 2.5kg and 4.5kg.
9. Ten Tons Mechanical CBR testing machine and CBR testing equipment including CBR mold and accessories.
10. Los Angeles abrasion Machine in order to determine the resistance of aggregate to abrasion.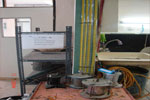 11. Storage Room For preserving soil and rock samples in standard situation and controlling aircondition.


Calibration
Calibration of load-displacement and other measuring devices will be provided according to the manufactures recommendations. Evidence of the current calibration will be supplied to the Company upon the request.
Soil Testing
According to the actual soil condition the following tests will be performed in central laboratory in Tehran. Some of the tests and their standards are described below: